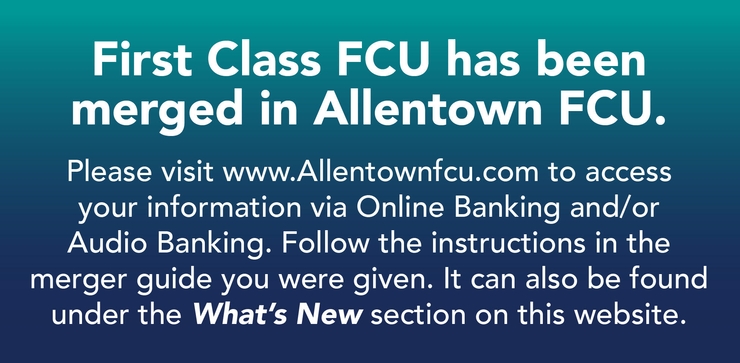 Welcome to First Class Federal Credit Union's Website
Your guide to the products and services that we have to offer. Here at First Class, we pride ourselves in our ability to offer you the best financial products delivered with excellent service. We work hard every day to be "where service and value meet"®.
Who is First Class Federal Credit Union?
First Class Federal Credit Union is a member-owned financial cooperative. Chartered in 1932, we are the oldest credit union in Pennsylvania and one of the oldest in the United States! Your accounts are backed by the good faith of the United States Government and are insured by the NCUSIF (National Credit Union Share Insurance Fund).
What is the Credit Union all about?
The Credit Union is about people. When you hear the words "credit union", it's not referring to the institution itself, it is referring to its members. The members of the Credit Union are its owners.
When you become a Credit Union Member, you enter into a very special relationship. It is a cooperative relationship. In order for members to get higher dividend rates and lower loan rates, members have to use the products and services that are available to them now. This creates growth, which allows newer products and services to be developed and added in the future. When you get down to basics, the Credit Union is whatever the members choose to make of it.